The NEW Ropes Course
Phase 1 and 2 of the ropes course is complete!  This summer campers were able to climb the rock wall or jacob's ladder to the top of our first tower.  They were able to go through several obstacles between the two towers and repel down the first tower.  Check out the pictures tab for more views of the great course.  Thanks to all of our wonderful volunteers for donating your time to work on this project with us.  Lord willing, we plan on adding a higher zip line to the second tower to complete the project.  Please continue to pray with us for God's provision.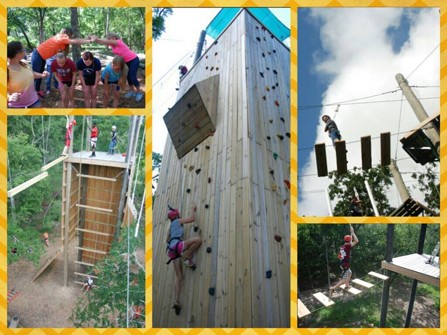 Back Cabin Renovation
The back cabins are starting to show their age.  We would like to give them a major overhaul to keep them going strong.  The renovation plans to be a $100,000 effort.  We plan to work in small sections on the cabins as the Lord allows the funds.  We already have funds for the first milestone and we will be re-roofing and insulating the cabins.
If you have a work group of volunteers and like to help with the ongoing efforts, please contact us. If you feel led to give to the back cabin renovation project, please designate the gift as "Back Cabins". Visit our donations page for more information.